Chiropractor
John Borsheim D.C.
Dr. John Borsheim's vision is to provide family wellness care that people can trust. He is passionate about preserving the functional movement of the human body as well as teaching people how to restore motion that may have been lost throughout the years due to injuries, stress, and everyday life. Dr. John has extensive training in diagnosing various musculoskeletal injuries as well as the movement patterns necessary to restore these deficiencies.
He received his Bachelor of Arts Degree from the University of North Dakota as well as an athletic training degree. He spent over 1,000 hours in learning how to prevent, diagnosing, and treating injuries in athletes. John then went on to receive his Doctorate in Chiropractic from Northwestern Health Sciences University.
While attending UND, Dr. John worked as a personal trainer which sparked his passion for the form and function of the human body. It was apparent early on that his personal training was limited with some clients due to deficiencies of functional movement. In an effort to discover a form of exercise that aided in improving these essential movements he was introduced to CrossFit while attending chiropractic school. He was instantly hooked. He is now part-owner of Crossfit Prior Lake and teaches a mobility class aimed at improving the efficiency and form of these movements.
John is family oriented and loves spending time with his beautiful wife, Meghan, and their two children.
God has put a passion on Dr. John's heart to help people, and it radiates through every cell of his body. Dr. John utilizes diversified chiropractic adjusting technique as well as the principles of kinesiology. He is certified in myofascial release, Rock Tape (kinesiology tape), and in Graston Technique.
Contact Dr. John at drjohn@chirofithealth.com
Meet our Clinic Director Sherry! Sherry has been working in our office since May 2019 joining us with ten years of background and experience in the health and wellness field. She brings a lot to our office, and is a go to person for scheduling your services with us. Come in and speak with Sherry about her experience with nutrition, exercise, and her own personal chiropractic story.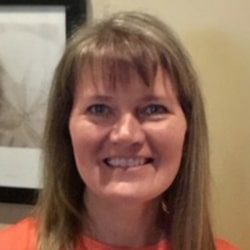 Meet our Eden Prairie Massage Therapist, Candy! Candy joins our team with 20 years of experience in Massage Therapy. Whether you are looking to help with tightness and soreness, accompanying your chiropractic visits, or a way to rejuvenate your body Candy is the perfect person to make an appointment with!
Meet our Eden Prairie PNF Trainer, Kylene! Kylene's experience fits right in here at ChiroFit Health and Wellness. With her experience as a personal trainer for 7 years, Kylene understands the body and ailments that exercise can take on the body. When working with Kylene, her nurturing spirit and kindness will help you relax and feel at ease during each session and get the maximum benefits of PNF!
Meet our Eden Prairie Massage Therapist, Jen! Her core approach to massage is based on Ayurveda principles and meeting the body where it is in the present to support it with healing. Jen's focus ranges from therapeutic massage to assist with emotional healing to deep tissue massage for physical healing including techniques such as Deep Tissue, Swedish, Prenatal, Myoskeletal Alignment and more. 
In her years of experience she has taken several classes to develop her own massage toolbox. I spend my free time with my family doing activities such as hiking, running, weight lifting and volleyball.
Growing up very active in sports, Kevin has experienced many injuries over time. He learned over the years how to work with the injuries, motivating him to become a personal trainer and fitness professional. It has always been his passion to work with people to help them prevent injuries and improve both sports performance as well as the quality of their active daily living activities. 
Kevin has been a personal trainer for 18 years, specializing in PNF stretching, corrective exercise, golf, and soccer fitness, with a special passion for TRX and Kettlebell training. We look forward to watching him help so many people here at ChiroFit Health and Wellness and allow them to experience the benefits of a multi-disciplinary practice.
Monday
9:00am - 1:00pm
3:00pm - 5:00pm
---
Tuesday
9:00am - 1:00pm
3:00pm - 5:00pm
---
Wednesday
9:00am - 1:00pm
3:00pm - 6:00pm
---
Thursday
9:00am - 3:00pm
---
Friday
9:00am - 12:00pm

---
Saturday & Sunday
Closed
---
With Candy: Wednesday
9:00am - 2:00pm
KYLENE
Monday
1:00pm - 6:00pm
---
Tuesday
9:00am - 1:00pm
---
Wednesday
1:00pm - 6:00pm
---
Thursday
9:00am - 1:00pm
---
Friday
9:00am - 12:00pm
---
KEVIN
Monday
2:00pm - 6:00pm
---
Tuesday
7:00am - 12:00pm
---
Thursday
7:00am - 12:00pm
---
Friday
Coming Soon!